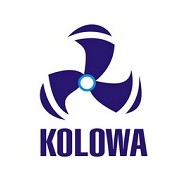 KOLOWA VENTILATION (MALAYSIA) SDN BHD,
was incorporated in June 2009 in Malaysia. We are the sole distributor of 'KOLOWA' brand of ventilation and cooling systems products in Malaysia. 'KOLOWA' is a trademark well known in the world for its quality and durability. It has a history of more than 46 years of manufacturing these products. KOLOWA ventilation fans have loyal customers from all over the world. It is a renown brand from Taiwan and its products are factory warranteed against ,manufacturing defects.
We help businesses increase profits with our cost-efficient Ventilation and Cooling Solutions. Experience HUGE savings in equipment cost and electricity consumption compared with the air-conditioner system and ordinary ceiling fans.
Products & Services:
- KOLOWA Ventilation Fan Cooling System
- KOLOWA Negative Pressure Ventilation System
- KOLOWA Positive Pressure Cooling System
- KOLOWA Ventilation Fan, Exhaust Fan, Roof Ventilator
Super Fan (Spider Fan), Blower Fan, Water Cooling Fan,
Evaporative Air Cooler, Cooling Pad & Related Paraphernalia
- Design, Installation, Consultancy, Training & After Sales

More Benefits...
1. Efficient Environment & Temperature Control.
2. Energy Efficient.
3. Provides A Cooling & Conducive Working Environment.
4. Enhances Production Efficiency.
5. Removes Excessive Moisture.
6. Removes Excessive Heat.
7. Reduces Dust.
8. Restricts The Accumulation Of Pernicious Gases.
9. Enhances Workers' General Health & Well-Being.


Check Out Our Projects
Nicaragua
Local Offices
Malaysia (HQ)

Contact Name:

Ms. Daphne Chen

Telephone No:

603-89430027 / 6012-7725533

603-89430028 (Fax)

Address:

No. 13-1,Jalan Equine 9,

(Admin Office)

Taman Equine, Bandar Putra Permai,

43300 Seri Kembangan,

Selangor.

Address:

No. 32, Jalan BPP 8/3,

(Store)

Bandar Putra Permai,

43300 Seri Kembangan,

Selangor.

E-mail:

kolowa.my@gmail.com

Philippines

1)Contact Name:

Vincent Benedict C. Tamargo

Mobile:

+63 917 803 5592

Email:

vincent.kolowa@gmail.com

2)Contact Name:

Earl Agbay

Mobile:

+63 919 614 1433

Email:

earlagbay.kolowa@gmail.com

Address:

No. 59/R3, Dona Soleded Avenue,

(Admin Office)

BLS, Paranaque City,

1711, Philippines.

Telephone No:

+63-2-822 1532

+63-2-821 1036 (Fax)

Indonesia

Jakarta

Contact Name:

Ibu Avi

Mobile:

+6287 8811 27588

Email:

avi.kolowa@gmail.com

Address:

Jl. Peta Selatan No.2,

RT.08 / RW.01 Kalideres,

Jakarta Barat

Contact Name:

Mr. Philip Ang

Mobile:

+6281 8178683

Telephone No.:

+62-2132557933

Company Name:

Indowin Perkasa Sejati

Address:

Jl Pinangsia Raya,

Gg. Asem. No. 82F

Jakarta Barat,

11110 Indonesia

Bandung

Contact Name:

Mr Suma Prabha

Mobile:

+62 2261504138

Company Name:

Pt San Pasific Abadi

Address:

Jl

Batununggal Indah Raya No. 35,

Bandung 40266, Indonesia

Semarang

Contact Name:

Vitofin

Mobile:

+62 81 22575 8777

Email:

vito.mach@gmail.com

Address:

Jl. Muara Mas VI C / 103

Semarang